Medical Neuroscience, a MOOC for Medical Education
By Ellen Vos-Wisse and Courtney Lockemer, Communications Manager for Online Duke
Story of a MOOC
Previously on this website an article was published: The Story behind "The Story of a MOOC" . Courtney told us about the process of the creation of this free Medical Education online, the course Medical Neuroscience. She also presented an infographic about the creation of the course.
Since then the situation has evolved. The course Medical Neuroscience does not only run once a year anymore but multiple times a year, learners can start every month. And this MOOC has found a valuable place in Medical Education around the world.
New Infographic
At Health Professions Education Day on September 12, Duke professor Leonard White presented a new infographic that focusses on the learner experience in the Medical MOOC.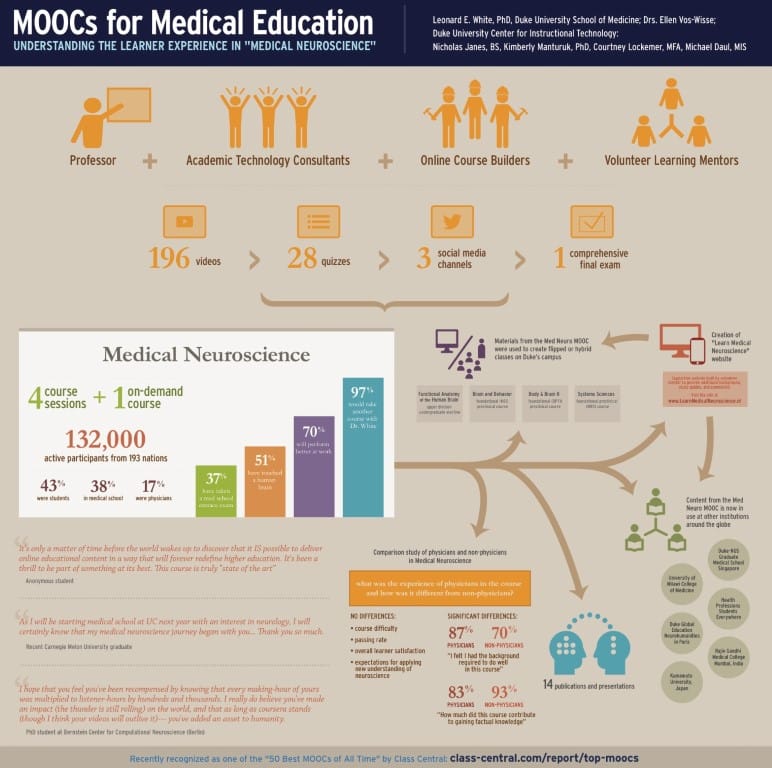 What does it take to make a MOOC?
This new infographic also shows what it takes to make a MOOC. Duke's Center for Instructional Technology made it  to tell the story of the learner experience in Medical Neuroscience.  The infographic also illustrates just how much effort goes into one online course (196 videos, for example) and the many far-reaching impacts that come out of it.
Learners and this Medical MOOC
This new infographic also makes clear that Medical Neuroscience has found its niche in Medical Education.
First of all, learners love the course. Recently Medical Neuroscience was recognized as one of the "50 Best MOOCs of All Time" by Class Central ( see News article: Medical Neuroscience in Class Central's Top 50 MOOCs of all time).
The learner community has grown. So far there are 132,000 active participants from 193 nations.
Further the teaching qualities of the teacher,Prof. Len White, are greatly valued by the online learner community. 97% would take another course with Dr. White. The online learners are not alone in their love of Prof. White's education. Because Prof. White received the Preclinical Golden Apple award for the recognition and appreciation of outstanding dedication to medical student education for his neuroscience on campus courses in a student body-wide ballot (see "Teaching award for Prof. Len White").
The role of the course in on-campus learning
The course is valuable for students at Duke University. Materials from the Medical Neuroscience course were used to create flipped or hybrid classes on Duke's campus.
In addition to this, content from Medical Neuroscience is now in use at other institutions around the globe.
Learner community
Last but not least, an active learner community created this website: www.learnmedicalneuroscience.nl. It is a supportive website built by a volunteer mentor to provide additional background, study guides and build a learner community.