Prof. Leonard White Presents on "Social Brains" at Duke Teaching Showcase
By Courtney Lockemer, Communications Manager for Online Duke
On October 11, Dr. Leonard White presented on the Medical Neuroscience MOOC at the Duke University Center for Instructional Technology 2016 Showcase. The event, which is known on Duke's campus as the CIT Showcase, is a free one-day conference run by the university's teaching and learning center that celebrates creativity and innovation in teaching. Over 200 faculty and staff from Duke and nearby higher education institutions attended the conference.
Social Brains in Medical Neuroscience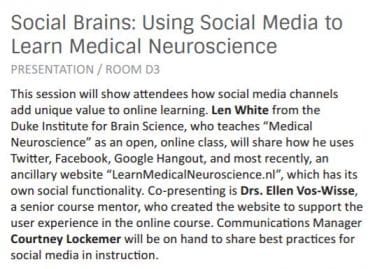 Dr. White's presentation was titled "Social Brains: Using Social Media to Learn Medical Neuroscience" and focused on how he uses Twitter, Facebook Google Hangouts, and LearnMedicalNeuroscience.nl in his open online course. He spoke about how using these social media channels has made it possible to connect on a more personal level with learners around the world. He also shared how using social media has allowed him to have incredibly rewarding interactions with learners in the course: his MOOC students show a degree of enthusiasm and appreciation he rarely encounters in his on-campus classes.
Social Brains in Medical Neuroscience from a learner's perspective
Ellen Vos-Wisse, a senior course mentor who created LearnMedicalNeuroscience.nl to support the user experience in the online course, contributed to the presentation via a video in which she spoke about her perspective on using the website to enhance the user experience of the course. She demonstrated some of the excellent learner contributions to the course's #getneuro challenges, including one of her personal favorites: a model of a brain built out of socks.
Presentation by Ellen Vos-Wisse course Mentor
Using social media in education; tips for instructors
The session concluded with a presentation by Courtney Lockemer, the communications manager for online education initiatives at Duke, on tips for using social media in education. Her presentation was targeted at instructors in the audience who might be inspired by Dr. White's use of social media but were not sure how to get started. Her slides are available for anyone interested on the CIT Showcase website.
Duke University's news office wrote an article about the presentation and how Dr. White uses social media to build an online community of his course.