by Claire Smith – Community Manager Community Team at Coursera
Mentors and the learning community
One of the most obvious differences between the in-person and online learning experiences is the communication between learners. Social interaction is an important aspect of learning. Therefore online courses have replaced the classroom with forums, as a way of providing that much needed social element.
Another challenge of MOOCs is that the instructor simply cannot provide support to thousands of learners all at once. This, again, is a place where forums can really help.

At Coursera we found that simply providing a space for learners to interact and help one another was not always enough. There often needs to be a spark that seeds the discussion.  Also, some reassurance that someone is there to respond is welcome. Forums need  moderation to make sure the forums remain a safe and welcoming space for all.
Therefore we reached out to our community, to our learners who were already the most engaged, and those who had done really well in their courses. We  invited them to volunteer as Mentors. We were, and continue to be, overwhelmed by the positive, enthusiastic response and the supportive community which formed as a result. We're thrilled to be able to continue expanding the program to support more and more courses!
Who are Mentors?
The selection process for Mentors does vary somewhat from course to course. The majority of courses are supported directly by Coursera and for those we identify learners who have been actively posting in the forums and who have achieved a high grade in the course. We send an invitation to Mentor candidates and invite them to take our training course. Those who pass will become Mentors.
In a few cases, the university course team wants to have a more active involvement with their Mentors and will select their own candidates using their own criteria. No matter who chose them, we welcome all Mentors into our community so they can all learn from one another.
What is the Mentor role?
Mentors are primarily moderators and facilitators, although that sounds really dull and formal! They can help with questions about the course, although we encourage them to take a step back and allow learners to help each other out first. Learners who help one another will gain a much stronger understanding of the subject and can forge connections that can help motivate and support them. We also encourage Mentors to support without spoon-feeding. Sharing the latest news about the course and linking to external readings all help to inspire learners and help them develop a deeper and broader understanding of the topic.
A really good Mentor will facilitate discussion by asking thought-provoking questions to encourage debate and further thought. Mentors are also there to set the tone and make sure the forums are a safe space for everyone to participate. The final responsibility Mentors have is to report back problems and suggestions, both about the course and also about the learning platform.
The Mentor training course
We use a course to train and help select our Mentors, and also to provide a community space for discussion during and after training. There are 4 key areas that the course covers, starting with the important details about the role and expectations, and then how to use the Coursera platform and the moderator tools available to Mentors. The main body of the course is about how to be a good Mentor – how to communicate sensitively with people of different cultures, how to respond to angry or upset learners, and how to spark discussions and encourage learners to think more deeply. We also have a section about providing really targeted, actionable feedback on assignments so learners can use them to improve.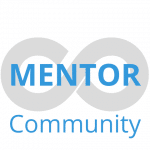 The Mentor Community
The community is a fundamental component of our Mentor program. We have Mentors from all over the world, from an incredible range of backgrounds and cultures and yet everyone can connect to lifelong learning and a shared joy of helping others. I am truly amazed every day that I get to work with such a compassionate, selfless and inspiring group of people. Some of our Mentors have even met up in-person, despite living across the world from one another!
We help our Mentors connect by running weekly hangouts so they can see and talk to each other face-to-face!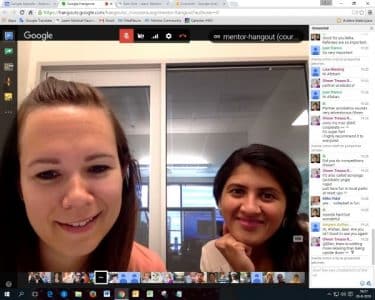 We like to recognise the impact that Mentors (and our other volunteers on Coursera) have by issuing badges that they can share on the LinkedIn profiles and show potential employers proof of the work they've done. We also highlight our community members in weekly interviews on our community blog.