Class Central's Top 50 MOOCs of All Time
There are close to 10.000+ MOOCs from 800 universities around the world. Class Central is a website with an overview of MOOCs and reviews by learners that have taken courses.
Because the number of MOOCs offered is overwhelming Class Central has made  a list of Top 50 MOOCs of All Time . It made the list for the first time in July of 2016 and refreshed it again last year. The list can help potential learners to find a good online course . Thousands of reviews written by Class Central users form the foundation of that ranking.
Medical Neuroscience ranks in the top 13 science courses again!
In 2016 Medical Neuroscience was in the list of Top 50 MOOCs in the science category as you can read in this news article on Learn Medical Neuroscience in 2016 . 
It was also in the top 50 on the 2017 list.
In 2018 Medical Neuroscience can again be found in the science courses of the top 50 MOOCs of all time, edition 2018. The reviews of the course Medical Neuroscience that are important for this ranking can be found on this page.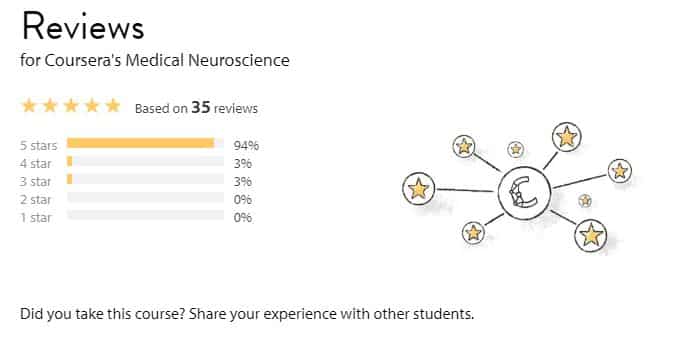 If you take a look at the dates of the reviews on Class Central we can see that the reviews are not recent, the most recent one dates two years back. Because recent reviews are missing there is an important task  for the current learners.
Learners reviews are important
Above all  you can recommend the course yourself. To do that you post a review on the course. You can clarify the quality and depth of our free course to potential learners.
A  News Article was published to stress this The article is:  'Review the course' |(May 15, 2016). It invites learners to review the course on two sites on the internet.
Let's share reviews on Medical Neuroscience
The learning community of our course shares the feeling that it is a wonderful course and wants to share that feeling with other potential learners. Therefore Let's keep adding our reviews to the review sites and make it clear that it is an outstanding course.
Therefore current learners: Add reviews on the course Medical Neuroscience to   Class central.